How to Make Creamy Broccoli Soup - Homemade and Easy Recipe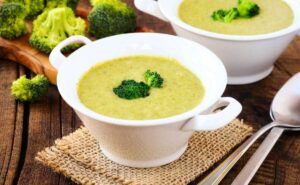 This delicious recipe can serve as a starter. Its main ingredient, broccoli, is of Mediterranean origin. During the Roman Empire, broccoli was a very important food for Italians. On the other hand, in the United States this food was introduced through Italian migration, but it became popular in the 1920s. Here we will present you the preparation of a delicious recipe for homemade broccoli cream easily and quickly.
Type: Creamy soup
Preparation Time: 30M
Recipe Ingredients:
500 gr of Broccoli, chopped into pieces.
100 gr of White Onion.
1 ½ Cup of Chicken Broth.
1 Pinch of Nutmeg.
2 tsp of oil.
1 Pinch of Sodium Bicarbonate (so that the Cream is not cut).
½ cup heavy cream.
Salt to taste.
Recipe Instructions:
Step 1:
In a pot of boiling water, place the broccoli and cook for about 3 minutes or until it turns a darker color.
Step 2:
Once cooked let them rest for 5 minutes.
Step 3:
In a blender add the broth, onion, and cooked broccoli and blend until you get a creamy mixture.
Step 4:
In a saucepan over medium heat heat the two tablespoons of oil and add the blended broccoli, add the pinch of baking soda and stir, cooking for 3 minutes.
Step 5:
Add salt to taste and a pinch of grated nutmeg.
Step 6:
Add the heavy cream, stir, and cook for 5 minutes.
Step 7:
Serve and decorate to your liking.
More Easy Creamy Soup Recipes