How To Make Creamy Mushroom Soup - Homemade and Easy Recipe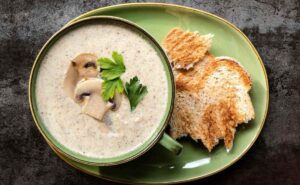 The Mushroom Cream began to be produced in 1934 by the Campbell Soup Company, but today it has become very popular in different countries. Its main ingredient is the mushroom, it is a species of mushroom native to Europe and North America. These mushrooms are a source of nutrients and vitamins, with many benefits for our health, since it serves to strengthen the immune system, prevent cancer, improve diabetes and strengthen the heart. Apart from being a very nutritious food, it is low in fat and calories, which makes it the perfect accompaniment to all kinds of dishes. Next we will present you the preparation of the recipe for the homemade cream of mushroom soup, a delicious starter to share with your guests.
Type: Creamy soup
Cuisine: North America
Preparation Time: 40M
Recipe Ingredients:
250 gr of fresh sliced ​​mushrooms.
½ White onion finely chopped.
2 garlic cloves crushed.
2 tbsp butter.
2 to 3 tbsp wheat flour.
2 tbsp cornstarch.
750 ml of chicken broth.
250 ml heavy cream.
Olive or Vegetable Oil.
Salt.
Pepper.
Fine herbs (optional).
Recipe Instructions:
Step 1:
In a saucepan over medium heat add the two teaspoons of butter and the oil.
Step 2:
Add the chopped onion and crushed garlic and sauté until golden brown.
Step 3:
Add the sliced ​​mushrooms and sauté, stirring until it releases its liquid.
Step 4:
Add the 2 or 3 tablespoons of flour without stopping stirring.
Step 5:
Add the broth and keep stirring.
Step 6:
Add a pinch of fine herbs, salt and pepper to taste.
Step 7:
Add the heavy cream and bring to a boil.
Step 8:
Apart, in a container with 150 ml of water, dissolve the cornstarch.
Step 9:
Add the already dissolved cornstarch to the cream of mushrooms to thicken, stir and boil until creamy.
Step 10:
You can blend it or serve it as is if you like, decorate to your liking and enjoy.
More Easy Creamy Soup Recipes