How to Make Creamy Spinach Soup with Potatoes - Easy Recipe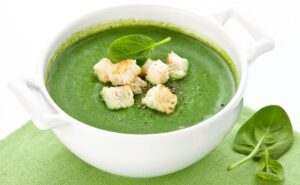 This delicious recipe is ideal as a starter and can be served with toast. Its main ingredient, spinach, is a food rich in vitamins A, E and K, iodine and several antioxidants. It also contains a lot of oxalic acid, so it should be consumed in moderation. Next we will present you the preparation of a homemade spinach cream with potatoes, easy and fast.
Type: Creamy soup
Keywords: Spinach Soup with Potato, Potato, Vegan, Healthy, Green Cream
Preparation Time: 30M
Recipe Ingredients:
250 gr of spinach.
500 ml of chicken or vegetable broth.
1 medium potato cut into small cubes.
1 finely chopped onion.
2 garlic cloves crushed.
50 ml of Vegetable Oil.
Salt and pepper to taste.
Note: You can use vegetable broth for a vegan recipe.
Recipe Instructions:
Step 1:
In a saucepan over medium heat, add the oil, onion, and garlic and stir until golden brown.
Step 2:
Then add the spinach, potato, salt and pepper to taste, and continue stirring for 5 minutes or until the spinach is reduced.
Step 3:
Add the chicken broth and cover for 15 minutes or until the potato is cooked.
Step 4:
Once everything is cooked, turn off the heat and let it cool down a bit.
Step 5:
Pour the contents of the pot into a blender and blend until you get a creamy mixture.
Step 6:
Serve and decorate to your liking.
More Easy Creamy Soup Recipes