How to make Danish Butter Cookies - Easy Recipe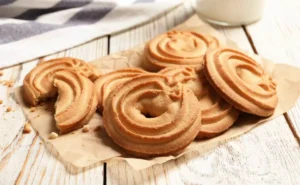 Today, I'm excited to share with you a delicious and simple recipe for Danish butter cookies. These classic cookies are a beloved treat in Denmark and are often enjoyed during holidays or special occasions. Made with just a few basic ingredients, these buttery and crumbly cookies are perfect for sharing with friends and family, or for enjoying on your own with a cup of tea or coffee. So let's get started and make some homemade Danish butter cookies!
Type: Dessert
Cooking Time: PT12-15M
Recipe Ingredients:
2 cups all-purpose flour
1 cup unsalted butter, at room temperature
1/2 cup granulated sugar
1 egg
1 tsp vanilla extract
Recipe Instructions:
Step 1:
Preheat your oven to 350°F (180°C) and line a baking sheet with parchment paper.
Step 2:
In a large bowl, cream together the butter and sugar until light and fluffy.
Step 3:
Add in the egg and vanilla extract and mix until well combined.
Step 4:
Gradually add in the flour and mix until a smooth dough forms.
Step 5:
Use a cookie scoop or tablespoon to portion out the dough onto the prepared baking sheet, leaving about an inch of space between each cookie.
Step 6:
Use a fork to press down lightly on each cookie to flatten slightly.
Step 7:
Bake for 12-15 minutes, or until the edges of the cookies are lightly golden brown.
Step 8:
Remove from the oven and let cool on the baking sheet for a few minutes before transferring to a wire rack to cool completely.