How to make Lemon Cornstarch Cookies - Easy Recipe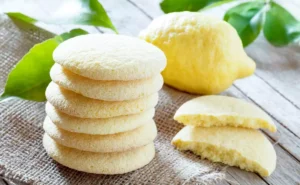 Get ready to brighten up your day with the delightful aroma and tangy taste of Lemon Cornstarch Cookies. These cookies are a perfect blend of buttery goodness, refreshing lemon zest, and the tender texture provided by the addition of cornstarch. With a simple list of ingredients and easy steps, you can create a batch of these heavenly treats that will leave you craving more. The zesty lemon flavor adds a burst of freshness to every bite, making these cookies a delightful accompaniment to your morning coffee or an afternoon tea. Whether you're looking to satisfy your sweet tooth or impress guests with a citrusy delight, these Lemon Cornstarch Cookies are sure to bring a smile to your face. So, let's dive into the recipe and embark on a baking adventure that will fill your kitchen with the irresistible aroma of freshly baked cookies!
Type: Dessert
Cooking Time: PT12-15M
Recipe Ingredients:
1 cup of all-purpose flour
1/2 cup of cornstarch
1/2 cup of unsalted butter, softened
1/2 cup of powdered sugar
Zest of 1 lemon
2 tablespoons of lemon juice
1/2 teaspoon of vanilla extract
Pinch of salt
Recipe Instructions:
Step 1:
Preheat your oven to 350°F (175°C) and line a baking sheet with parchment paper.
Step 2:
In a bowl, whisk together the flour and cornstarch. Set aside.
Step 3:
In a separate large bowl, cream together the softened butter and powdered sugar until light and fluffy.
Step 4:
Add the lemon zest, lemon juice, vanilla extract, and salt to the butter mixture. Mix well to combine.
Step 5:
Gradually add the flour and cornstarch mixture to the wet ingredients, mixing until a soft dough forms. Be careful not to overmix.
Step 6:
Scoop tablespoon-sized portions of dough and roll them into balls. Place the dough balls onto the prepared baking sheet, spacing them about 2 inches apart.
Step 7:
Gently press down on each dough ball with the back of a fork to create a slight crisscross pattern.
Step 8:
Bake the cookies in the preheated oven for 12-15 minutes or until the edges are lightly golden.
Step 9:
Remove the baking sheet from the oven and let the cookies cool on the sheet for a few minutes. Then transfer them to a wire rack to cool completely.