How to Make Nutella Mousse with Whipping Cream – 2 Ingredient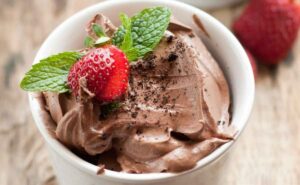 The Mousse is a recipe of French origin that appears for the first time in 1755 by the French cook Menon, the first flavors that were made were coffee, chocolate and saffron. Today this dessert consisting of soft and foamy cream has become so popular throughout the world that it is prepared in many countries. On the other hand, this nutella mousse recipe that we present below is very easy to prepare, so you can impress your guests with this delicious dessert. 2 Ingredients.
Type: Dessert
Cuisine: French
Keywords: homemade mousse, easy mousse recipe, mousse dessert, mousse without gelatin
Preparation Time: 15M
Recipe Ingredients:
500 ml of very cold whipping cream.
350 gr of nutella (hazelnut cream).
Note: It is necessary that the whipping cream is very cold to be able to beat.
Recipe Instructions:
Step :
In a bowl, beat the heavy cream until it forms peaks.
Step 2:
With the help of a microwave for 30 seconds, melt the nutella a little so that it can be more liquid.
Step 3:
If the nutellla is very hot, let it sit for a while until it is warm, as the heat could damage the whipped cream.
Step 4:
Add the nutella to the whipped cream and stir until well blended.
Step 5:
With the help of a pastry bag, pour into molds and refrigerate for an hour.
Step 6:
Decorate to your liking and serve.
More Easy Dessert Recipes