How to make Oatmeal Chocolate Chip Cookies - Easy Recipe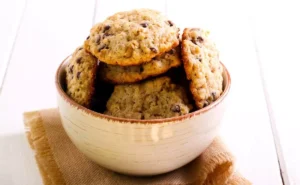 Oatmeal chocolate chip cookies are a classic and delicious treat that everyone loves. The combination of hearty oats and sweet chocolate chips makes for a satisfying and comforting cookie that's perfect for any occasion. This recipe is simple and straightforward, using basic pantry staples to create a chewy, buttery cookie with just the right amount of sweetness. Whether you're looking for an after-school snack or a sweet treat to share with friends and family, these oatmeal chocolate chip cookies are sure to please. So let's get started and bake up a batch of these delicious cookies!
Type: Dessert
Keywords: Oatmeal Cookies with Cocolate Chips, healthy cookies
Cooking Time: PT12-15M
Recipe Ingredients:
1/2 cup unsalted butter, softened
1/2 cup granulated sugar
1/4 cup brown sugar
1 egg
1 teaspoon vanilla extract
1 cup quick oats (Quaker Oats)
1 cup all-purpose flour
1/2 teaspoon baking soda
1/2 teaspoon salt
1 cup chocolate chips
Recipe Instructions:
Step 1:
Preheat the oven to 350°F (180°C). Line a baking sheet with parchment paper.
Step 2:
In a large bowl, cream the softened butter, granulated sugar, and brown sugar together until light and fluffy.
Step 3:
Add the egg and vanilla extract, mixing well to combine.
Step 4:
In a separate bowl, whisk together the oats, flour, baking soda, and salt.
Step 5:
Gradually add the dry ingredients to the butter mixture, mixing until just combined.
Step 6:
Stir in the chocolate chips until evenly distributed throughout the dough.
Step 7:
Using a cookie scoop or spoon, drop the dough by rounded tablespoons onto the prepared baking sheet, spacing them about 2 inches apart.
Step 8:
Bake for 10-12 minutes or until the edges are lightly golden brown.
Step 9:
Let the cookies cool on the baking sheet for 5 minutes before transferring them to a wire rack to cool completely.
Step 10:
Store the cookies in an airtight container at room temperature for up to 5 days.
Step 11:
Enjoy your delicious and simple oatmeal chocolate chip cookies!