How to make Peanut Butter Cookies - Easy Homemade Recipe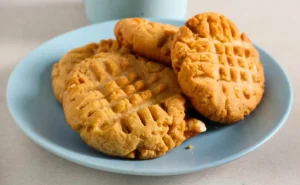 Peanut butter cookies are a timeless classic that have been enjoyed by generations. The combination of sweet and salty flavors, along with the rich and creamy texture of peanut butter, make these cookies irresistible. This simple and easy-to-follow recipe uses basic ingredients that you probably already have in your pantry, making it a great option for a quick and delicious treat. With their chewy texture and irresistible nutty flavor, these peanut butter cookies are perfect for any occasion. So let's get started and make some delicious cookies!
Type: Dessert
Cooking Time: PT10-12M
Recipe Ingredients:
1 cup creamy peanut butter
1 cup granulated sugar
1 large egg
1 teaspoon vanilla extract
Pinch of salt
Recipe Instructions:
Step 1:
Preheat your oven to 350°F (175°C) and line a baking sheet with parchment paper.
Step 2:
In a medium-sized mixing bowl, cream together the peanut butter and sugar until light and fluffy.
Step 3:
Beat in the egg, vanilla extract, and salt until well-combined.
Step 4:
Use a cookie scoop or tablespoon to form the dough into 1-inch balls and place them on the prepared baking sheet.
Step 5:
Use a fork to flatten each ball of dough and create a criss-cross pattern on the top.
Step 6:
Bake for 10-12 minutes or until the edges of the cookies are golden brown.
Step 7:
Remove from the oven and allow the cookies to cool on the baking sheet for 5 minutes before transferring them to a wire rack to cool completely.