How to make Mexican Pico de Gallo – Simple and Easy Recipe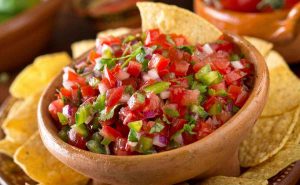 Pico de Gallo is a natural recipe from South America and Central America. It is very easy to make and its ingredients are very common in the kitchen. This recipe is a very good companion with meat, chicken, pork, tacos, empanadas or chips. And after preparing it, it can be kept very well in the refrigerator for two to three days.
Type: Sauce, Dip
Cuisine: Latin American
Keywords: homemade pico de gallo, easy pico de gallo récipe, pico de gallo, pico de gallo with lemon
Preparation Time: 10M
Recipe Ingredients:
2 cups of chopped tomatoes.
½ Onion finely diced.
1 Jalapeño dismembered and without seeds (chopped into squares).
½ cup of Cilantro finely chopped.
1 lemon
Salt and pepper to taste.
Recipe Instructions:
Step 1:
In a deep bowl place the tomatoes, onion, jalapeño and finely chopped cilantro.
Step 2:
Squeeze the juice from one lemon.
Step 3:
Add salt and pepper to taste.
Step 4:
Stir all the ingredients until they are integrated.
Step 5:
Let it rest for half an hour and serve it to accompany your meats, tacos, empanadas or the foods of your choice.
More Easy Sauce and Dips Recipes