How to Make Honey Mustard Vinaigrette - Easy Recipe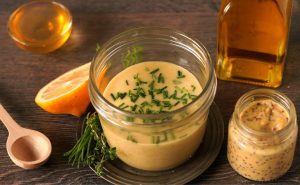 Vinaigrettes are emulsified sauces whose main ingredients are an acidic liquid such as vinegar or lemon juice and are accompanied by a medium-fat mixture such as olive oil, sour cream, mayonnaise or natural yogurt. It is an ideal companion in dishes such as salads, seafood, meat and fish. Here we present a delicious Mustard Vinaigrette or Dressing, honey and lemon, made in a homemade, easy and fast way.
Type: Vinaigrette, Dressing, Sauce
Cuisine: European
Keywords: Vinaigrette, Dressing, Sauce
Preparation Time: 10M
Recipe Ingredients:
2 Tbsp Dijon Mustard.
2 ½ Tbsp Honey.
1 Lemon.
1 clove garlic.
2 tsp Apple Cider Vinegar.
½ Cup of Olive Oil
½ tsp of salt.
pepper to taste
Recipe Instructions:
Step 1:
In a blender add mustard, honey, lemon juice, garlic, vinegar, olive oil, salt and pepper to taste.
Step 2:
Blend until all the ingredients are well integrated.
Step 3:
Serve and decorate to your liking.
Step 4:
If it is your preference, keep a glass jar with a lid in the fridge for when you are going to use it.
More Easy Sauce and Dips Recipes