How to make Salmon Pate with Cream Cheese - Easy Recipe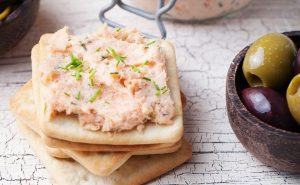 Pâté is a recipe of French origin, it is a paste made from meat or liver, to which vegetables, fine herbs, spices or wine are also generally added. On the other hand, in some European countries such as Germany, Holland, Finland, Sweden, Austria or Hungary they usually make it in the form of a sausage and some of its variants are difficult to spread, for this reason, in these countries they generally consume it in pieces round or as sandwich fillings. Next we will present you the preparation of a delicious homemade salmon pâté in an easy and fast way.
Type: Dips
Cuisine: French
Keywords: homemade salmon pate, easy salmon pate recipe, recipe for salmon pate, salmon pate with cream cheese
Preparation Time: 20M
Recipe Ingredients:
250 gr of fresh salmon without skin or bones.
150 gr of Smoked Salmon.
150 gr of Cream Cheese.
1 Tbsp finely chopped chives.
¼ tsp Dill.
Salt and pepper to taste.
Recipe Instructions:
Step 1:
In a saucepan over high heat and with boiling water, cook the salmon for 5 minutes.
Step 2:
Then remove the cooked salmon and place it to drain or on absorbent paper to remove excess water.
Step 3:
Once the salmon is drained and cooled, place it in a food processor and pulse until well flaked.
Step 4:
Place it in a bowl and reserve.
Step 5:
In the same processor glass, place the smoked salmon and blend until finely chopped.
Step 6:
Once it is finely chopped, add it to the same bowl along with the cooked salmon.
Step 7:
Add the cream cheese, chives, dill, salt, pepper and stir until you get the doughy consistency of pate.
Step 8:
Place the salmon pate in a bowl and serve with crackers or toasted bread.
More Easy Sauce and Dips Recipes