How to Make Avocado Hummus with Chickpeas - Easy Recipe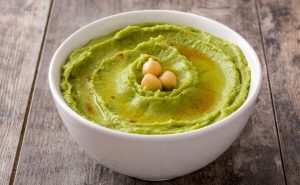 Hummus originates from Arab countries, but today it has become a very popular recipe in the rest of the world. Due to its ingredients, this recipe is ideal for vegans, but is also enjoyed by non-vegans. It can be accompanied with pita bread, tortillas, chips or carrot sticks, it is a good dip to surprise your friends. Next we will show you how to prepare a homemade Avocado and Chickpea Hummus in an easy and fast way.
Type: Dip
Cuisine: Arabic
Keywords: homemade avocado hummus, easy avocado hummus recipe, Arabic Recipe, Spreadable Cream, Vegan Recipe, Dip
Preparation Time: 10M
Recipe Ingredients:
250 gr of cooked chickpeas.
2 avocado.
2 Tablespoons of Tahini (optional).
50 ml of Extra Virgin Olive Oil.
½ Lemon.
2 Cloves of Garlic.
Salt and pepper to taste.
Note: There are those who like it with tahini and without tahini, it is optional.
Recipe Instructions:
Step 1:
Cut the avocado in half, remove the seed and cut it into cubes.
Step 2:
Place the avocado and all the ingredients in a blender.
Step 3:
Add the juice of half a lemon, salt and pepper to taste.
Step 4:
Blend all the ingredients until they are integrated and get a thick mixture.
Step 5:
Serve it in a deep container and decorate to your liking.
More Easy Sauce and Dips Recipes