How to Make Chicken Liver Pate without Alcohol - Easy Recipe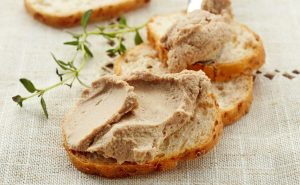 The pâté recipe originates from French cuisine, it is a paste made from meat or liver, to which vegetables, fine herbs, spices or wine are also generally added. In some European countries such as Germany, Holland, Finland, Sweden, Austria or Hungary they are usually made in the form of sausage and some of their variants are difficult to spread, generally being consumed in round pieces or as sandwich fillings. Next we will present you the preparation of a delicious chicken liver pâté in an easy and fast way.
Type: Dip
Cuisine: French
Keywords: homemade chicken liver pate, easy cheddar chicken liver pate recipe
Preparation Time: 20M
Recipe Ingredients:
400 gr of Chicken Liver.
250 gr of onion finely chopped.
1 clove of crushed garlic.
Butter or oil to fry.
Aromatic herbs to taste (thyme, rosemary).
Salt and pepper to taste.
Recipe Instructions:
Step 1:
In a skillet over medium heat, add 2 tablespoons of butter and fry the onion until golden brown.
Step 2:
Once the onion is golden, remove it from the pan and place it on a separate plate.
Step 3:
In the same pan where you sautéed the onion, add 2 tablespoons of butter and sauté the liver over high heat for 5 minutes or until well-sealed.
Step 4:
Once the liver is cooked, place it in the blender and add the cooked onion, garlic, salt, pepper and a few pinches of aromatic herbs to your liking.
Step 5:
Blend until you get the doughy consistency of pate.
Step 6:
Put the pate in a glass jar and put it in the fridge for 4 hours.
Step 7:
Serve and enjoy on bread or toast.
More Easy Sauce and Dips Recipes