How to Make Buffalo Sauce with Tabasco, Butter and Honey - Easy recipe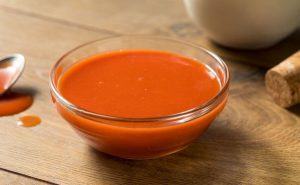 The Buffalo Sauce recipe originates from the United States, specifically from the City of Buffalo, the second largest city in the state of New York. It is made with hot sauce and melted butter. Next we will present the preparation of a delicious Homemade Buffalo Sauce step by step, in an easy and fast way. Ideal to accompany with chicken wings.
Type: Sauce
Cuisine: American
Keywords: homemade buffalo sauce, easy buffalo sauce recipe, hot sauce
Preparation Time: 15M
Recipe Ingredients:
1 Cup of Hot Sauce.
¾ cup of melted butter.
3 Tbsp Apple Cider Vinegar.
2 tablespoons of English sauce.
1 Tbsp Garlic powder.
Note: If you want you can add honey or brown sugar, if you like it a little sweet.
Recipe Instructions:
Step 1:
In a saucepan over medium heat, add the hot sauce, melted butter, apple cider vinegar, Worcestershire sauce, and garlic powder.
Step 2:
Stir constantly so that all the ingredients are integrated.
Step 3:
Once it boils, turn off the heat and let it rest.
Step 4:
Enjoy with chicken wings.
More Easy Sauce and Dips Recipes