Cheddar Cheese Sauce for Nachos with Cream Cheese and Milk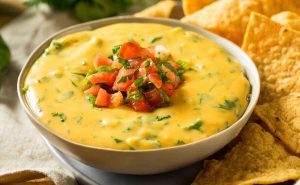 Cheddar cheese sauce or dips is originated in English cuisine, it is an equivalent of the French Mornay sauce. It is a sauce that can be eaten with meat, pasta, vegetables or even used as dips for your nachos. In the United States it has become so popular that it is mass-produced under the Ragú brand. In England it is used in very famous dishes such as macaroni and cheese, lasagna or cauliflower cheese. Next we will present you the preparation of a delicious cheddar cheese sauce in an easy and fast way.
Type: Sauce, Dip
Cuisine: English
Keywords: homemade cheddar cheese sauce, easy cheddar cheese sauce recipe, cheddar cheese dipping sauce
Preparation Time: 15M
Recipe Ingredients:
10 slices of Cheddar Cheese
2 Tbsp Cream Cheese
½ cup of milk
1 ½ Tbsp Butter
1 ½ Tbsp Wheat Flour
1 pinch Paprika
Salt to taste
Cilantro (optional)
Recipe Instructions:
Step 1:
In a saucepan over low heat, place the butter to melt.
Step 2:
In a separate bowl, mix the flour with the milk at room temperature.
Step 3:
Once the butter has melted, add the milk and flour, stirring constantly.
Step 4:
Add the cream cheese and continue stirring for 2 minutes.
Step 5:
Add the cheddar cheese and stir until well combined.
Step 6:
Add the pinch of paprika, salt to taste and stir.
Step 7:
Serve and decorate to taste.
More Easy Sauce and Dips Recipes