How to Make Hollandaise Sauce - Homemade and Easy Recipe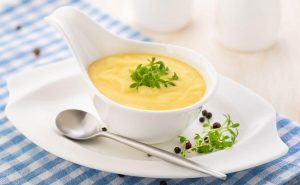 Hollandaise sauce is a recipe made from an emulsion of egg yolks, lemon juice, salt and melted butter. You can also add a little pepper to taste if you wish. It is a sauce of French origin despite the fact that its name refers to Holland. It is a sauce that is used to cover fish, potatoes or the famous Benedictine eggs. Next we will teach you the preparation of a Homemade Hollandaise sauce step by step, in an easy and fast way.
Type: Sauce
Cuisine: French
Keywords: homemade hollandaise sauce, easy hollandaise sauce recipe
Preparation Time: 10M
Recipe Ingredients:
½ cup of melted butter.
3 Egg Yolks.
2 tsp Lemon Juice.
½ tsp of salt.
Note: For this recipe we will use an electric hand mixer.
Recipe Instructions:
Step 1:
In the glass of the hand blender add the three egg yolks, the lemon juice and the salt.
Step 2:
Beat on high speed and add the melted butter little by little.
Step 3:
Once you get a slightly thick consistency it is ready.
Step 4:
More Easy Sauce and Dips Recipes