How to Make Black Olive Tapenade - Easy Recipe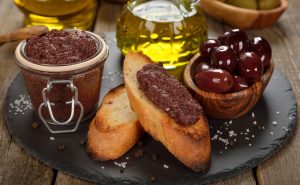 Tapenade is an olive paste originating from the European Mediterranean, specifically from Provenza. It is made from olives, capers, anchovies and olive oil. It is a popular food in the cuisine of the South of France, where it is served as an aperitif, spread on toast. It can also be used as a seasoning for steaks or vegetables. Next we will present the preparation of Tapenade of Black Olives, made in a homemade way, easily and quickly.
Type: Dip
Cuisine: Mediterranean
Keywords: homemade black olive tapenade, easy black olive tapenade recipe, Olive Pate
Preparation Time: 5M
Recipe Ingredients:
200 gr of Black Olives without seeds.
70 ml Virgin Olive Oil.
3 Anchovies in Oil.
1 Tbsp Capers.
1 clove garlic.
1 sprig of parsley.
½ Lemon.
Pepper to taste.
Recipe Instructions:
Step 1:
Place all ingredients in a food processor and add pepper to taste.
Step 2:
Blend all the ingredients until you get a thick and pasty mixture.
Step 3:
Serve and enjoy with crackers or toast.
More Easy Sauce and Dips Recipes