How to Make Garlic Sauce with Mayo, Yogurt and Sour Cream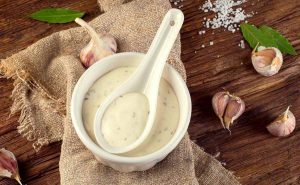 The Garlic Sauce Recipe is very popular and made in different ways in many parts of the world. It is usually made with garlic mayonnaise. Therefore, it is a very famous dip to share with a sandwich, cheese sticks, nachos, pizzas or with the food of your choice. Next we will present you how to prepare a homemade garlic sauce easily and quickly.
Type: Dips
Keywords: homemade garlic sauce, easy garlic sauce recipe, garlic dipping sauce
Preparation Time: 10M
Recipe Ingredients:
1⁄2 Cup Greek yogurt.
1⁄2 Cup sour cream.
1⁄2 Cup mayonnaise.
5 Cloves of garlic crushed in a press.
Salt.
Pepper.
Parsley.
Recipe Instructions:
Step 1:
In a bowl, add the yogurt, the sour cream, the mayonnaise and the minced garlic.
Step 2:
Add salt and pepper to taste.
Step 3:
Stir very well until you get the desired consistency.
Step 4:
Serve in a clean bowl and garnish with a little parsley.
More Easy Sauce and Dips Recipes