How to Make Homemade Tartar Sauce with Capers - Easy Recipe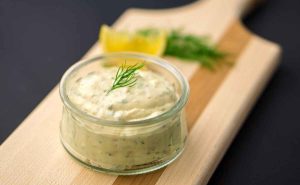 Tartar sauce is a well-known recipe in the world. The origin of its name comes from the Tatar tribes of Mongolia, although the term "Tartar" comes from French and means "raw". The main ingredients of this sauce are mayonnaise and pickles. It is very delicious to accompany it with salads, pasta, fish, meat or use it as dips in your meetings and parties to surprise your guests. Next we will present you the recipe for homemade tartar sauce in an easy and quick way.
Type: Sauce and Dip
Cuisine: French
Keywords: homemade tartar sauce, easy tartar sauce recipe, tartar dipping sauce
Preparation Time: 10M
Recipe Ingredients:
400 grams of mayonnaise.
½ tsp Dijon Mustard.
½ White Onion.
5 Pickles.
8 capers.
2 boiled eggs.
1 tsp finely chopped fresh parsley.
1 tsp Vinegar.
Salt and pepper to taste.
Recipe Instructions:
Step 1:
Finely chop all the ingredients and add them to a bowl.
Step 2:
Add the mayonnaise and stir very well.
Step 3:
Add salt and pepper to taste.
Step 4:
Serve it in a container and accompany with the foods of your choice.
More Easy Sauce and Dips Recipes