How to Make Aioli Sauce with Eggs and Olive Oil - Easy Recipe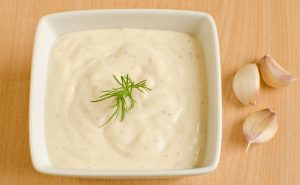 Alioli is a typical sauce of Mediterranean cuisine and is formed by the emulsion of garlic with oil. It is used to accompany fish, shellfish or potatoes. This sauce is very common in regions of the Mediterranean arch between Spain, France and Italy, but today it has become very popular in many regions of the world. Here we present the preparation of an Alioli sauce made in a homemade way, easily and quickly.
Type: Sauce, Dressing
Keywords: Garlic sauce, Dressing, homemade aioli sauce, easy aioli sauce recipe
Preparation Time: 10M
Recipe Ingredients:
1 Cup of Olive Oil.
2 finely chopped garlic cloves.
1 Tbsp lemon juice.
1 egg.
Salt and pepper to taste.
Note: For this recipe we will use a Quickchef electric hand mixer.
Recipe Instructions:
Step 1:
In the glass of the hand blender add the olive oil, garlic, lemon juice, egg, salt and pepper to
Step 2:
Insert the stick of the hand mixer to the bottom of the bowl and beat on high speed without moving the mixer.
Step 3:
Once the sauce is emulsified, move the blender little by little to beat in the places that are needed.
Step 4:
Get a thick consistency and it's ready.
Step 5:
More Easy Sauce and Dips Recipes