How to Make Huancaina sauce from Peru - Easy Recipe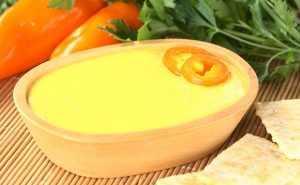 Huancaina sauce is a typical Peruvian recipe from the city of Huancayo. It is used to prepare "Papa a la Huancaina", a dish that has spread in different regions of Peru, which together with Ceviche have become one of the most representative dishes of Peruvian cuisine. Next, we will present you how to prepare the Homemade Huancaína Sauce step by step, in an easy and fast way.
Type: Sauce
Cuisine: Peruvian
Keywords: homemade Huancaina sauce, easy Huancaina sauce recipe
Preparation Time: 10M
Recipe Ingredients:
5 Peruvian Yellow Peppers, dismembered and seedless (chopped into squares).
½ Red Onion finely chopped.
6 Soda Crackers.
200 gr of cheese chopped into squares.
200 ml of milk.
Oil.
Note: If the cheese is salty it is not necessary to use salt.
Recipe Instructions:
Step 1:
In a frying pan, add a splash of oil and fry the onion and Peruvian yellow pepper until golden brown.
Step 2:
Once ready, remove from heat and place in a blender.
Step 3:
Also add the milk, the soda crackers, the cheese and blend everything until you obtain a homogeneous liquid mixture.
Step 4:
Serve and enjoy on the papa a la Huancaína plate.
More Easy Sauce and Dips Recipes