How to Make Sour Cream with Greek Yogurt - Easy Recipe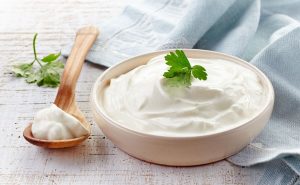 Sour cream is a very popular recipe from Anglo-Saxon countries, widely consumed in the United States and England. It is a recipe based on milk cream, lemon, vinegar and salt; has smooth texture, aromatic and with an acid taste. Next we will teach how to prepare a Homemade Sour Cream in an easy and fast way.
Type: Sauce and Dips
Cuisine: Anglo-Saxon
Keywords: homemade sour cream, easy sour cream recipe, substitute for sour cream with greek yogurt
Preparation Time: 10M
Recipe Ingredients:
200 grams of Greek yogurt.
2 Tbsp Lemon Juice.
2 Tbsp White Vinegar.
1 pinch of salt.
Recipe Instructions:
Step 1:
In a bowl add the Greek yogurt, lemon juice and vinegar.
Step 2:
Add salt and pepper to taste.
Step 3:
Stir until all the ingredients are well integrated.
Step 4:
Once ready you can decorate and serve with the foods of your choice.
More Easy Sauce and Dips Recipes