How to Make Tzatziki Sauce with Greek Yogurt - Easy Dips Recipe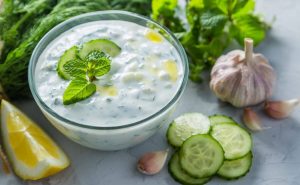 Tzatziki sauce is native to Greek and Turkish cuisine. This recipe is made mainly from Greek yogurt, mixed with grated cucumber, olive oil, lemon, garlic, pepper, parsley and mint. It is served cold and can be accompanied with sandwiches, roasts or salads. Next we will present you the preparation of the tzatziki sauce in an easy and fast way.
Type: Dip
Cuisine: Greek and Turkish
Keywords: homemade tzatziki sauce, easy tzatziki sauce recipe, tzatziki dipping sauce, tzatziki sauce vegan
Preparation Time: 15M
Recipe Ingredients:
2 Greek yogurts.
1 Cucumber, peeled and seeded.
1 clove of crushed garlic.
½ Lemon.
4 finely chopped fresh mint leaves.
Salt and pepper to taste.
A splash of olive oil.
Recipe Instructions:
Step 1:
In a deep bowl, grate the cucumber and drain it in a colander until the water is removed (we will only use the grated cucumber).
Step 2:
Apart in a bowl, add the 2 Greek yogurts and add the grated cucumber.
Step 3:
Add the clove of crushed garlic, the juice of half a lemon, the finely chopped mint, salt and pepper to taste.
Step 4:
Add a splash of olive oil and stir until all the ingredients are integrated.
Step 5:
More Easy Sauce and Dips Recipes