How to make Pineapple Upside-Down Cake - Easy Recipe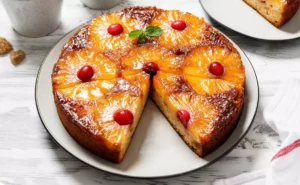 Indulge in a classic dessert with this recipe for Pineapple Upside-Down Cake. This sweet and tangy treat is perfect for any occasion, whether it's a family gathering or a special celebration. The cake features a golden, buttery base of caramelized sugar and juicy pineapple slices, topped with maraschino cherries for a pop of color and sweetness. The cake batter is moist and fluffy, providing the perfect balance to the caramelized pineapple topping. This recipe is easy to follow and is sure to impress your guests with its delicious flavors and beautiful presentation. So why not give it a try and add this timeless dessert to your baking repertoire?
Type: Dessert
Keywords: Pineapple cake
Cooking Time: PT40-45M
Recipe Ingredients:
1/2 cup (1 stick) unsalted butter, softened
1 cup granulated sugar
1 can (20 oz) pineapple slices in juice, drained (reserve juice)
Maraschino cherries
1 1/2 cups all-purpose flour
2 tsp baking powder
1/2 tsp salt
1/2 cup reserved pineapple juice
2 large eggs
1 tsp vanilla extract
Recipe Instructions:
Step 1:
Preheat oven to 350°F (175°C).
Step 2:
In a 9-inch cake pan, melt the butter over low heat. Remove from heat and sprinkle sugar evenly over the melted butter. Arrange pineapple slices on top of the sugar, placing a cherry in the center of each pineapple ring. Set aside.
Step 3:
In a mixing bowl, whisk together flour, baking powder, and salt.
Step 4:
In a separate bowl, beat together eggs, vanilla extract, and reserved pineapple juice.
Step 5:
Add the dry ingredients to the wet ingredients and mix until just combined.
Step 6:
Pour the batter over the pineapple slices in the cake pan and smooth the surface with a spatula.
Step 7:
Bake for 40-45 minutes, or until a toothpick inserted into the center of the cake comes out clean.
Step 8:
Allow the cake to cool for 10 minutes, then invert it onto a serving plate. If any pineapple slices or cherries stick to the pan, simply remove them and place them back onto the cake.
Step 9:
Serve warm or at room temperature, garnished with whipped cream or vanilla ice cream if desired.