How to make Homemade Condensed Milk - Easy Recipe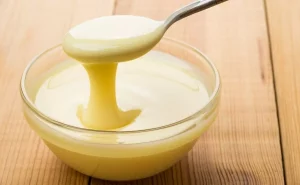 The condensed milk recipe was invented by Nicholas Appert in 1820 and Gail Borden Jr. in 1852. This process of condensing milk was done because regular milk could not keep well without refrigeration and would only last a few hours. For this reason, in the 19th century, poisoning caused by the consumption of milk was very common due to contamination by bacteria during the milking process and the precariousness of the conservation processes. But thanks to this process today we can enjoy this delicious delicacy in our desserts and recipes. Next we will present you the preparation of a delicious homemade condensed milk using only 2 ingredients, in an easy and fast way.
Type: Condensed Milk
Cuisine: European
Keywords: Sweetened Milk
Preparation Time: 15M
Recipe Ingredients:
1 Cup of Powdered Milk.
150 gr of sugar.
125 ml of water.
Recipe Instructions:
Step 1:
In a saucepan over medium heat place the sugar, water and stir until the sugar dissolves completely.
Step 2:
Once it starts to boil, turn off the heat and let cool for a few minutes.
Step 3:
Place the mixture in a blender and add half of the milk powder.
Step 4:
Blend until it is integrated and add the rest of the powdered milk little by little.
Step 5:
Pour the Condensed Milk you made into a glass jar and put it in the fridge for 3 hours.
Step 6:
Enjoy it with cookies or with your favorite desserts.
More Easy Jam Recipes