How to Make Homemade Nutella - Chocolate Hazelnut Spread Recipe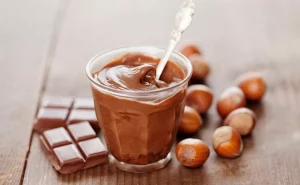 The recipe for chocolate hazelnut spread has its origins in Italy, manufactured on a large scale by the Michele Ferrero Company in 1965. Next, we will present you the preparation of a delicious recipe for chocolate hazelnut spread (homemade nutella) from easy and fast way, using only 3 ingredients.
Type: Spreadable Cream
Cuisine: European
Keywords: Hazelnut cream
Preparation Time: 25M
Recipe Ingredients:
100 gr of toasted and skinless hazelnuts.
200 gr of Chocolate.
200 gr of Condensed Milk.
Recipe Instructions:
Step 1:
Place the hazelnuts in a blender and blend for 7 minutes or until the hazelnut releases its oil and there is a mixture between liquid and pasty.
Step 2:
Melt the chocolate in a bain-marie and pour it into the blender.
Step 3:
Add the condensed milk in the blender and blend until everything is well integrated.
Step 4:
Serve and enjoy. Store in a glass jar with a lid.
More Easy Jam Recipes