How to Make Homemade Pesto Sauce for Pasta - Easy Recipe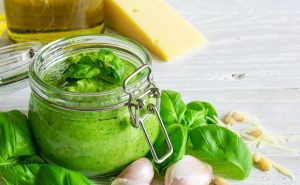 Pesto sauce is native to the Liguria region of Italy. This recipe is made mainly from basil, pine nuts, garlic, Parmesan cheese and olive oil. Its name comes from the Genoese "pestare" which means "to crush or grind in a mortar", since this was the traditional way in which it was generally prepared. Next we will present you the preparation of a delicious pesto sauce in an easy and fast way.
Type: Sauce
Cuisine: Italian
Keywords: homemade pesto sauce, easy pesto sauce sauce recipe, basil pesto sauce, pesto sauce with pine nuts
Preparation Time: 15M
Recipe Ingredients:
50 gr of fresh basil leaves.
25 gr of pine nuts (if you don't have pine nuts you can use walnuts).
60 gr of Parmesan cheese.
80 ml of Olive Oil.
2 cloves of Garlic.
Salt and pepper to taste.
Recipe Instructions:
Step 1:
In a blender place the basil, the two cloves of garlic, the pine nuts, the Parmesan cheese, salt and pepper to taste.
Step 2:
Then add half of the olive oil and blend until it forms a thick sauce.
Step 3:
Add the other half of the oil and blend for a few seconds until it is integrated.
Step 4:
Serve it with your favorite pasta or keep it in the fridge in a glass container with a lid.
More Easy Sauce and Dips Recipes